Published on Monday, July 10 2023
Authors : Eamon Cullinane
In the last 18 months we have seen a staggering amount of activity in the renewable diesel space with over a dozen new production facilities coming online in North America alone. As for the execution of these capital projects, we have seen a wide range of scenarios play out across key metrics (timelines, capex, opex, yields, capacity utilization, etc.). Some projects have faced massive roadblocks to the tune of bankruptcy, while others have quietly executed with little to no hiccups.  Amongst the trade press chatter, the question of whether or not renewable diesel facilities can achieve capacity utilization rates on par with oil refinery processes has been kicking around. In this blog we will evaluate and explore the publicly available data to gain clarity on what has been transpiring in the market.
Historical Renewable Diesel Capacity Utilization
To understand if capacity utilization has been low in the last few years, we first need to establish what "low" means for the renewable diesel industry.  Valero's Diamon Green Diesel (DGD) St. Charles facility offers the best insights into the long-term utilization rates as they are one of the few facilities in the U.S. that has been operating for over 5 years. Taking the five-year period from 2018-2022, according to financial statements, DGD achieved roughly a 90% capacity utilization rate over an adequately long period to represent all the necessary facility downtimes (catalyst changes, planned/unplanned turnarounds, etc.). This suggests capacity utilization similar to that of the U.S. oil refining industry.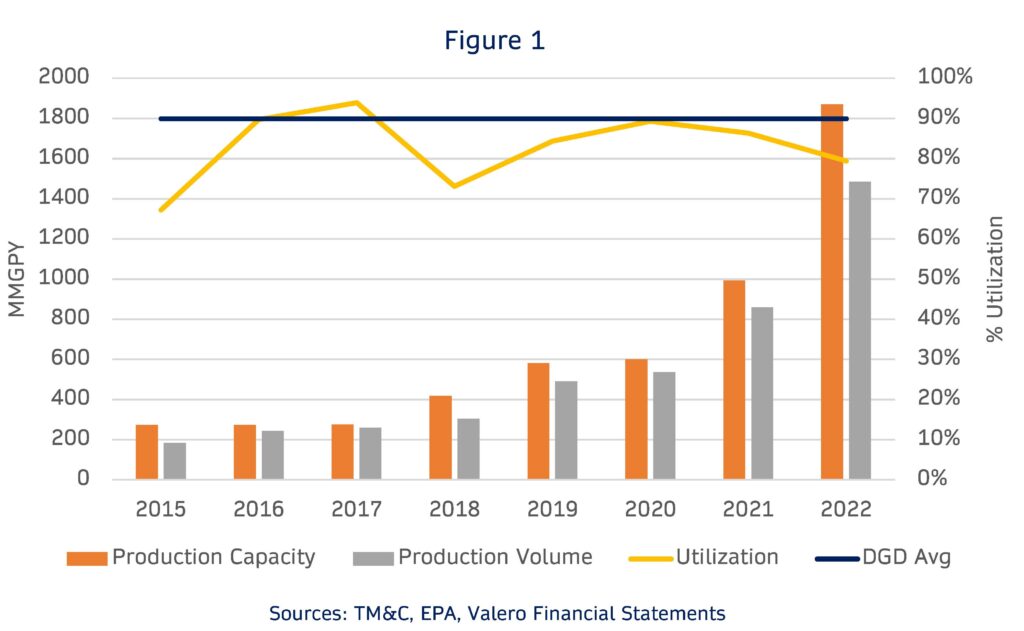 Interestingly we do see lower utilization across the industry in 2022 (Figure 1), but it's not particularly dramatic with annual utilization historically fluctuating between 70-95%. Given the large amount of facilities coming online in 2021/2022, this slight decline is within reason and would not alone indicate any systemic issue in renewable diesel utilization rates.  That being said, let's dig into the specific projects and get a better understanding of some of the issues that these recent projects have faced.
Recently Completed Projects
Since 2021, here is the list (Table 1) of new stand-alone HEFA facilities that have started up in the U.S.: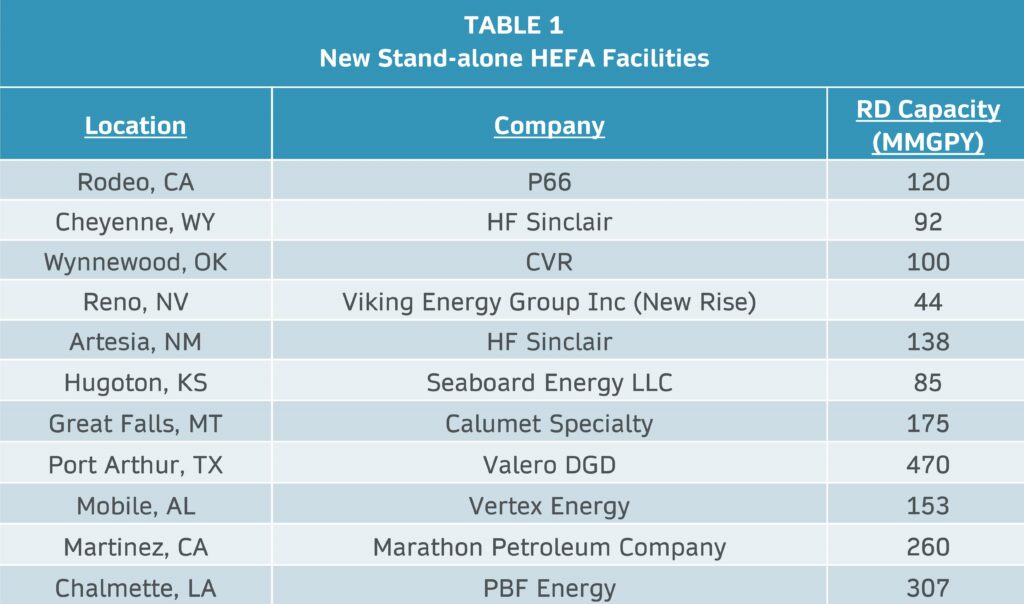 P66 Rodeo has fared well in their phase 1 renewable diesel project which included starting up the RDU (Unit 250) roughly 2.5 months ahead of schedule in April 2021. In addition, they indicated that they are making 30% more renewable diesel production at the plant than originally planned and seeing higher than promised yields of RD at greater than 95%; while small speedbumps have been attributed to building out robust feedstock supply chains and the California permitting process.
HF Sinclair renewables business segment, which now includes the Cheyenne, Artesia and Sinclair renewable diesel units, sold 136 million gallons of renewable diesel in 2022 and ended up with a net operating margin of negative 52 cents/gallon. In the fourth quarter of 2022, they were only able to manage a 60% utilization due to issues around hydrogen availability and RDU catalyst performance. CEO Mike Jennings had this to say in February "to put it candidly, the renewables performance — operational performance to date is not what we planned, and it's disappointing, but we're pretty resilient and we're going to fix this thing."
Calumet Montana Renewables commenced operations in late 2022 and according to their 2022 year-end company update, "the current 6,000 bpd capacity will increase to 12,000 bpd with the sequential commissioning of renewable hydrogen, SAF, and feedstock pre-treater which are expected online in that order in 1Q2023".  In the Q12023 reporting they stated "we commissioned a renewable hydrogen plant at our Montana Renewables facility. During April of 2023, we completed construction of the feedstock pre-treatment unit and SAF unit at our Montana Renewables facility." Production of renewable fuels was 5,030 bpd in Q1 2023.
CVR Energy's renewable diesel unit at the Wynnewood, Oklahoma, refinery had some initial delays to the start-up schedule due to severe winter snowstorms and delays in equipment deliveries back in February of 2021. However, they further delayed the project due to unfavorable economics on soy RBD margins (see previous blog). They have since started-up and plan to have their PTU operational in Q3 2023.
Valero Diamond Green Diesel (Port Arthur) – "DGD 3" has appeared to have been executed well with EVP Gary Simmons stating "It came in under budget. It was nine months ahead of schedule. It's met design. It's met its design rates already. And I'll just say that the project team, the operations team and the fuel compliance team did a great job making this a very smooth start-up, and we're not having any problem moving sales out of DGD 3 into markets." The successful commissioning and start-up of the plant in November was reflected in the Q4 2022 financials with a record sale of renewable diesel and putting DGD's annual production capacity at ~1.2 billion gallons.
Marathon Petroleum Company (Martinez) – The Martinez renewable fuels facility completed phase 1 of their project on time and at the designed capacity of 260 million gallons per year. Key to the successful ramp-up of phase 2 will be the commissioning of the PTU this year. Marathon plans to be at a capacity of 730 million gallons per year by the end of 2023.
Vertex Energy recently started up their RDU at its Mobile, Alabama, refinery but was originally slated to start-up at the end of 2022. However, mechanical completion was delayed due to COVID supply chain disruptions and procurement delays of construction materials.  Then after mechanical completion and during the unit startup they reported "a failure in the feedstock pumping system, which provides feedstock to the renewable diesel hydrocracker." This further delayed the start-up of the unit. Finally, the full name-plate capacity of 14,000 bpd won't be achieved until the completion of an additional hydrogen supply unit sometime next year.
Delayed and Cancelled Projects
Beyond the projects that have recently come online, there are some facilities (Table 2) worth mentioning that have either gone bankrupt or seen severely delayed timelines which may be adding to the market sentiment of renewable diesel start-up struggles.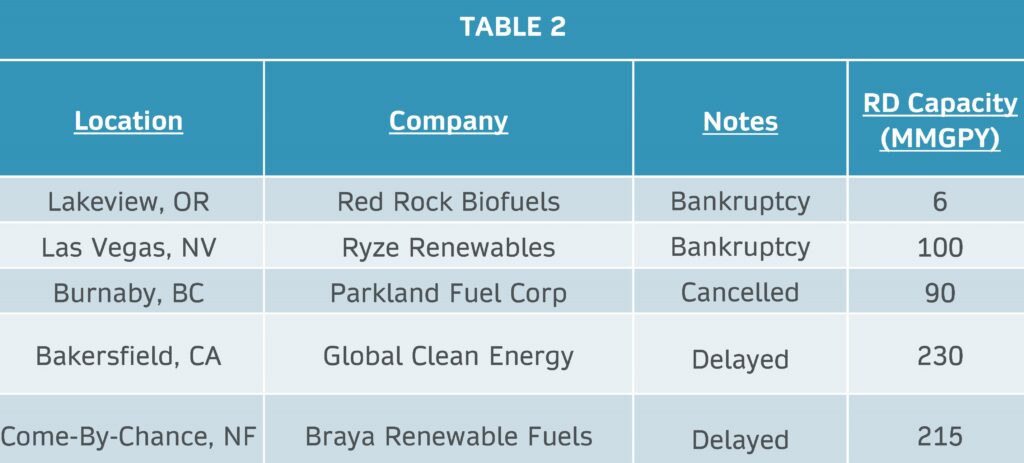 The Red Rock Biofuels project defaulted on its debt and was forced into foreclosure by the end of January 2023. The property was auctioned to the highest bidder (Next Renewable Fuels) on February 9th. The new ownership plans to use the asset to produce renewable natural gas by 2025 instead of the originally planned renewable diesel / sustainable aviation fuel.  It's worth noting that this particular project was attempting to convert woody biomass into renewable fuel via gasification and Fischer–Tropsch process.
Ryze Renewables also filed for bankruptcy and was auctioned off this past month to Edgewood Renewables for $36.5 million. According to the bankruptcy documents in June of 2018, they began construction with a plan to use the Sulzer/Duke bioflux technology. During the construction process they became "aware of various engineering, mechanical, pollution, and safety issues, among others, at another refinery that used the Duke technology." So, they decided to switch technology providers which "resulted in substantial delays and increased costs that vastly exceeded the Debtors' available financing."
Global Clean Energy has been in the public light due to ExxonMobil backing out of a product offtake agreement citing misconduct and mismanagement by leadership at Global Clean Energy. Cost overruns and delays in the construction and engineering of the project lead ExxonMobil to this decision as the facility was originally planning to begin production in early 2022.
Braya Renewable Fuels last fall experienced a flash fire during the construction phase of the project which led to delays in the project timeline that was originally planned to start-up in Q3 of 2022, but the facility has yet to come online.
Conclusion
It would appear the industry utilization rate does have some room to improve, but the issues are varied from mechanical issues, hydrogen availability, feedstock supply chain gaps, and catalyst performance. While some renewable diesel units have intentionally come online at lower than nameplate capacity due to later start-ups of the HPUs/PTUs. None of these items indicate a lack of technical maturity or readiness for renewable diesel at a commercial scale to achieve utilization rates in-line with traditional oil refining operations. Ultimately, facilities will get past these hurdles as they continue to gain more operational experience and improve on the long-term utilization of the assets, barring any economic sparing.