Published on Thursday, August 31 2023
Authors : Harold "Skip" York
"I don't build in order to have clients. I have clients in order to build."– Howard Roark The Fountainhead
Despite renewed interest in hydrogen as a more environmentally benign form of energy, few merchant projects have been sanctioned for investment over the last ten years. Many of these projects have common challenges, such as, obtaining off-take commitments, agreeing on an appropriate price, and a robust supply chain. Speculatively building capacity has proven to not be financeable. However, without the guarantee of supply, it is difficult for customers to commit to hydrogen investments.
This is the first in a series of blogs Turner Mason & Company is doing on the business prospects of hydrogen. We will be focusing on the challenges being faced and potential opportunities for those seeking to build a successful business in the hydrogen economy.
Let's start with a common foundation of the hydrogen value chain as set in Figure 1. Starting with the demands for hydrogen at the bottom of the figure, we should note that hydrogen has been used as a fuel since the early 19th Century. In fact, the first internal combustion engine was powered by hydrogen. Of the numerous potential applications for hydrogen, the green box shows current demand is essentially evenly split between refineries, plastics, and fertilizers.
Figure 1: A simple view of the hydrogen value chain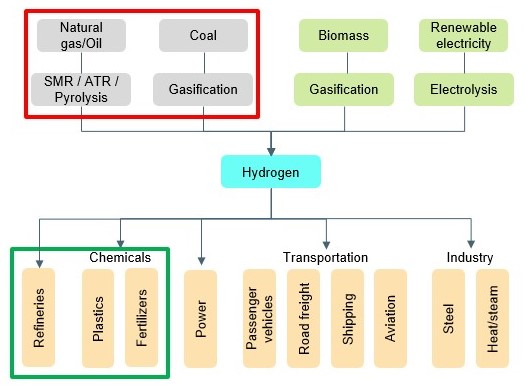 Source: Turner Mason & Company; National Hydrogen Council
Now let's talk about how this hydrogen demand is supplied. Less than 1% of hydrogen is produced by resource extraction similar to natural gas. Thus, hydrogen molecules must be manufactured. By returning to the top of the figure we see there are a variety of technologies used to manufacture hydrogen, but none of these technologies are new, including electrolysis. There have been commercial plants using electrolysis since the 1930s (Norway) and 1940s (Japan). However, to date, most of the value chain has been on the left side of the diagram.
The red box in the upper left can fully satisfy current demand. It highlights that over 95% of hydrogen is produced by fossil fuels, with most volume coming from steam methane reforming of natural gas. Coal gasification is concentrated in countries, such as China, with easy access to the resource.
With this as our common foundation, our future blogs will address questions around the likelihood hydrogen might play a bigger role in the energy system.
Which of these potential end uses place a higher value on the commodity?
How might value be distributed along the value chain of specific industries?
How might the "color", e.g., carbon intensity, of various production technologies impact value propositions?
What challenges need to be overcome for the hydrogen economy to emerge?
TM&C is actively consulting with clients seeking to evaluate hydrogen investment opportunities. For more information about areas we can assist you and your organization in hydrogen or any other areas of the energy landscape, please reach out to us at contact@turnermason.com or give us a call at 214.754.0898.