HISTORY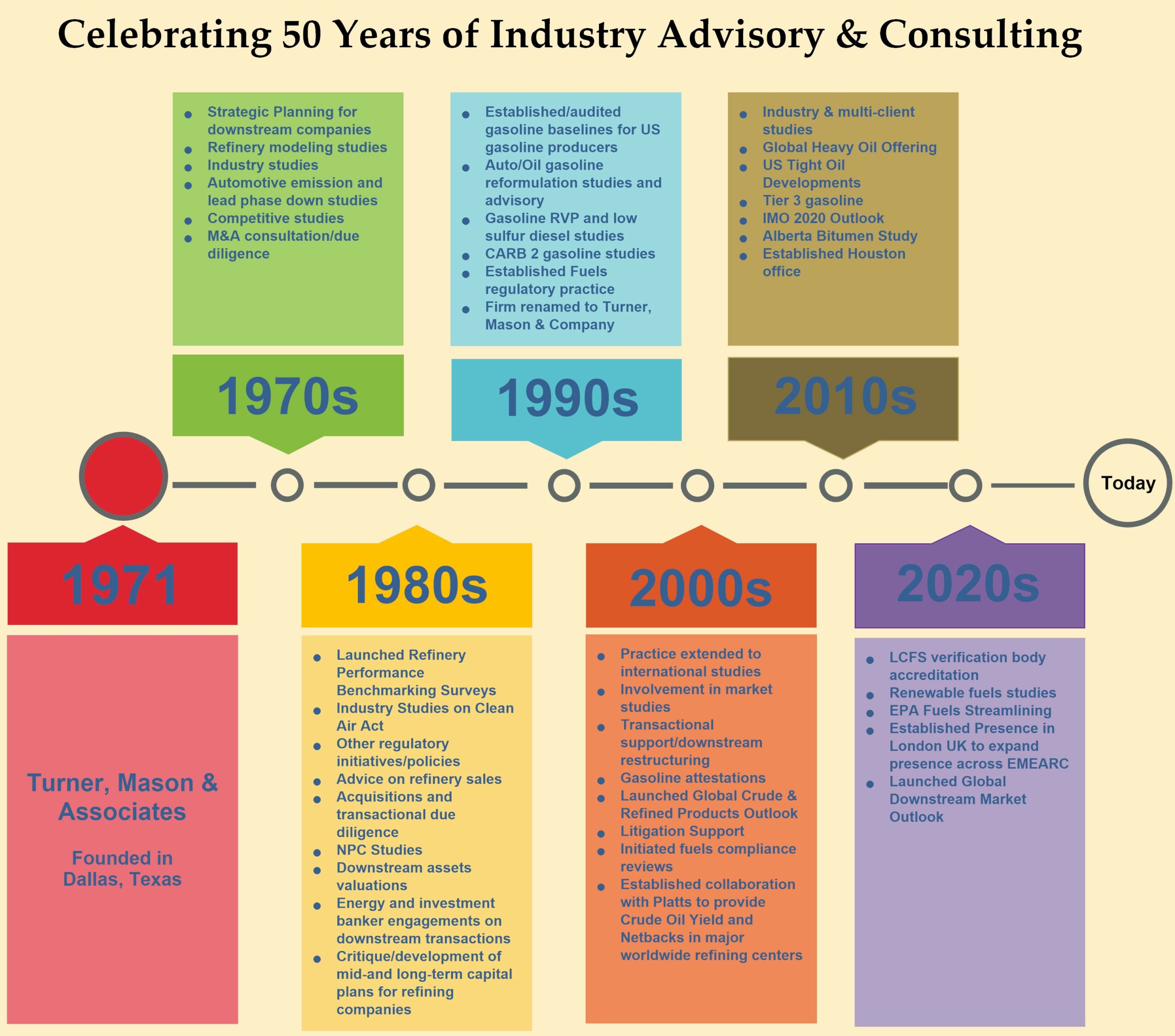 The company was started in 1971 in Dallas, Texas as Turner, Mason & Associates by its namesake founders, Malcolm Turner and Harry Mason. Turner and Mason had been chemical engineering classmates at Rice University and worked for U.S. operating companies Conoco and Tenneco before beginning their consulting careers. They were joined in the practice by former Rice chemical engineering classmates Robert Cunningham and Duvall Webster. Lee Solomon helped start the firm, left for a stint as CEO of a farm coop and rejoined to initiate the Refinery Performance Surveys which allowed U.S. refiners to benchmark their refining operations, costs, yields, etc. against competitors in blind data aggregations that preserved the confidentiality of individual facility and company data.  The first few industry-wide surveys were conducted in the early 1980s at Turner, Mason & Associates.  In 1984, Lee formed Solomon & Associates and continued providing the benchmarking surveys under that name.

Initially, Turner, Mason & Associates provided strategic and technical consultation primarily to the senior managements of independent refiners serving as an extension of their planning staffs. The firm quickly earned a reputation for its expertise in industry modeling and competitive studies, mergers and acquisitions/due diligence support and expert witness engagements. Additionally, its client base was extended to include industry associations like API, NPRA (predecessor to AFPM), governmental agencies like EPA and DOE, financial institutions and investment bankers.

The firm was later renamed Turner, Mason & Company and then in 1984, George Michalski and current President and CEO, Michael Leger, joined the firm.  Michalski came from Ethyl Corporation and Leger had held various technical and management positions in the refining divisions of Texaco, Inc., Cities Service Company and CITGO Petroleum Corporation. They were joined in 1987 by John Auers from Exxon and in 1989 by Tom Hogan who had served in various capacities at Mobil, ECI and Husky. Charles Miller joined the firm in 1990 after careers with Gulf Oil, Texas City Refining and Hill Petroleum and James Jones joined in 1994 from La Gloria Oil & Gas. The firm's practice was extended by the addition of these individuals to facilitate strategic planning, project management, independent engineer services, forecasting, fuels regulatory support, international engagements with NOCs and market analysis and research.  In 2006 Elizabeth Hilbourn and John Mayes joined the firm after careers with Mobil, Exxon and Flint Hills Resources (Beth) and Gulf Oil, BP, Ultramar and Fina/Alon (John). Recent additions of Sam Davis from Wood Mackenzie, Cinda Lohmann from Flint Hills and Dr. Harold "Skip" York complement and complete the firm's current senior leadership team.

Today, Turner, Mason & Company is growing and expanding its practice to offer coverage over the full range of energy services and industries.  Our vision is to provide trusted advice and solutions to the global energy industry through rigorous independent analysis, critical judgement, and thorough understanding of the market fundamentals and drivers.