Published on Wednesday, May 31 2023
Authors : John Mayes
Rebalancing product markets after startup of the Dangote Refinery.
On May 22, the Dangote refinery outside of Lagos, Nigeria was "inaugurated."  This does not mean the refinery began operations on that day, only that speeches were made, and ribbons were cut.  Construction of the facility is not expected to be complete until the end of 2023 with meaningful crude rates not beginning until 1Q 2024, and maximum rates are not expected until at least 2Q 2024.  This is not to take away from the spectacular achievement of this project and what it will mean for Nigeria's product markets along with the impacts it will have on the entire Atlantic basin refining sector.
With a processing capacity of 650 MBPD, the Dangote refinery will be the largest in Africa and one of the largest single train refineries in the world.  At an estimated cost of $19 billion, the refinery is not only large but also highly complex.  The plant will have a hydrocracker, a continuous catalyst reformer (CCR), as well as alkylation, isomerization, hydrogen production, sulfur processing and numerous hydrotreating units.  The refinery will also have a Resid Fluid Catalytic Cracking (RFCC) Unit which converts heavy residual fuel into gasoline and distillates.  This level of processing capabilities yields a refining complexity which is reported to be slightly higher that the U.S. average and substantially above the European average.
The actual startup of the refinery will bring welcome relief to Nigeria's petroleum refining market.  While the country has four refineries with a total capacity of 424 MBPD, none of the facilities have operated in recent years.  Four micro-refineries are operational however, but together only have a combined capacity of 24 MBPD.  As a result, virtually all of the country's petroleum demand requirements are supplied by imports, mostly from western Europe.  But this supply has been erratic in recent years, with reports of fuel quality issues as well.  In 2022, more than one imported gasoline cargo contained significant volumes of methanol which created numerous engine failures in the country.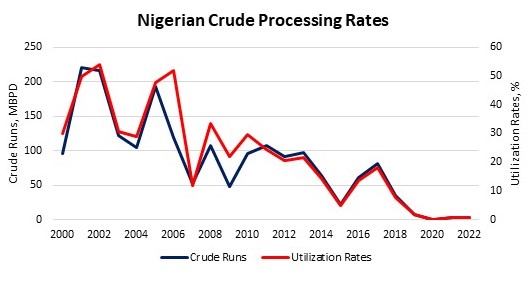 Total petroleum demand in Nigeria is approximately 530 MBPD.  Of this, gasoline represents the dominant share at about 400 MBPD, with diesel around 70 MBPD.  The Dangote refinery should be able to supply all the required diesel and offset most gasoline imports.  Assuming an 85% crude utilization rate and a gasoline yield of 50-55%, gasoline production would be 280-300 MBPD.  While gasoline imports would be substantially reduced, there is still room for slightly over 100 MBPD of imports. 
Refineries in the Atlantic Basin are expected to be impacted by the startup of the Dangote refinery.  In 2022, Nigeria exported slightly over 1.0 million BPD of crude oil.  Because the Dangote facility will likely process predominantly Nigerian oil, crude exports are expected to decline to around 520 MBPD after startup, which is about half of the current export volume.  This will have a noticeable impact on global crude oil markets and require some level of rebalancing.
More importantly, however, will be the impact on Atlantic Basin product markets. The reduced level of gasoline and diesel export movements from Northwest Europe to West Africa will likely reduce European processing rates and margins.  This impact is more than the loss of the export markets, however.  Africa has traditionally been a dumping ground for European low octane gasoline components.   Nigeria only has one grade of gasoline which is a 91 RON (Research Octane Number), equivalent to a U.S. 86 AKI.  Nigeria sells no premium gasoline.  The reduction or elimination of these markets will not only produce a supply imbalance for Northwest Europe but also a potential octane imbalance with refiners being forced to either upgrade their gasoline or seek alternate markets.
The startup of the Dangote refinery in Nigeria is expected to significantly alter product trade flows in 2024 with the potential of European refineries experiencing a major loss of export markets.  The greatest uncertainty of this situation, however, lies not in the construction of the new facility but in the ability for it to operate at high utilization rates.  One advantage that the Dangote refinery has compared to the other Nigerian refineries is that it is privately owned.  While the threat of market disruptions from this refinery is real, the ability to process crudes at high utilization rates has yet to be proven.
In our recently issued May 2023 Global Downstream Market Outlook publication, we assess the impact of the Dangote refinery startup on Atlantic Basin product balances from a country and regional perspective. For more information about the publication, please reach out to Cindy Parker at cparker@turnermason.com.