Published on Thursday, November 16 2023
Authors : Harold "Skip" York
"When you get a different vantage point, it changes your perspective" – Neil Armstrong in First Man
Our first Hydrogen blog establishes that the primary uses today are as a process feedstock in petroleum refining and chemicals. The second blog shows that despite the potential for dramatic global demand growth through 2040, using hydrogen as a process feedstock will remain the largest global use. That blog also shows the value of hydrogen as a process feedstock (e.g., petroleum refining, chemicals, decarbonizing steel) is greater than as a store or source of energy.
What also differs across uses is how value is distributed along the value chain. Figure 1 shows the hydrogen value chain for power generation in 2040. Value tends to accumulate where there is a bottleneck in the value chain. The party that can relieve that bottleneck has the opportunity to capture some of that value. In the hydrogen value chains we evaluated, the downstream captures a greater share of value. Economic value will tend to pool in the hydrogen downstream because, unlike natural gas production, there is no systemic decline of existing production, so the realized wellhead price does not need to be high enough to continuously induce supply to replace decline. This inducement price generates value for those assets already on-stream.
The value chain for hydrogen in power generation should look much like it does for natural gas. This isn't surprising because hydrogen would compete directly with natural gas at the turbine burner tip on a Btu basis. Hydrogen also requires pipeline connectivity from where it is produced to a power plant. One difference is in logistics operating costs. Hydrogen can cause many metals, including the carbon steel widely used in gas pipelines, to become brittle. So pipeline technical requirements might limit the extent to which hydrogen can be blended into the existing natural gas pipeline system and would require incrementally higher maintenance costs.
Figure 1: Distribution of value along hydrogen power generation value chain (2040)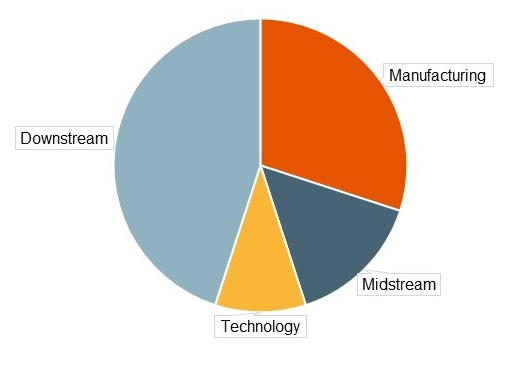 Source: Turner Mason & Company analysis
An alternative value chain is road fuels. If you recall from Blog #2, hydrogen is more valuable in power generation than in road fuel. As Figure 2 shows, the allocation of value along the road fuel value chain differs as well.
Figure 2: Distribution of value along hydrogen road fuel value chain (2040)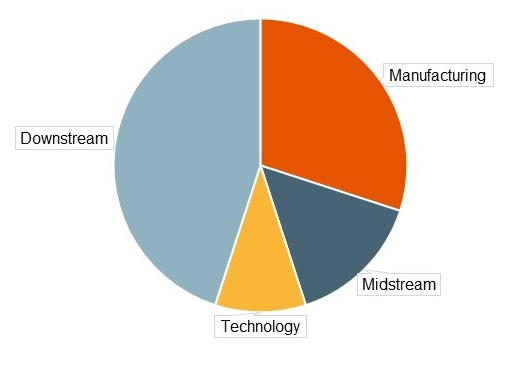 Source: Turner Mason & Company analysis
The big difference in the respective value chains is the opportunity for technology to capture value in hydrogen. This opportunity would be a mix of revamping existing technologies to accommodate hydrogen characteristics, such as its smaller molecule size, faster flame velocity, and higher NOx emissions. There also might be opportunities for new technologies to handle fuel offloading, control systems, or monitoring emissions and safety. In natural gas those issues have been addressed by mature technologies so the ability for technology providers to capture value is limited.
Conclusion
Notice that so far, none of these value chains, or where value is concentrated, depends upon the "color", i.e., carbon intensity, of any hydrogen production process. The value proposition of hydrogen, as a feedstock or an energy source, does not explain the most recent surge in interest in the hydrogen economy. Unlike the past, this time the attention largely is driven beyond commodity economics to also include the potential for hydrogen to support a combination of domestic energy security goals (e.g., means of production are localized) and decarbonizing energy systems.
The next blog in this series will discuss how the carbon intensity of hydrogen manufacturing might impact its value to various end-users.
TM&C is actively consulting with clients seeking to evaluate hydrogen investment opportunities. For more information about areas we can assist you and your organization in hydrogen or any other areas of the energy landscape, please reach out to us at contact@turnermason.com or give us a call at 214.754.0898.