Published on Thursday, December 1 2022
Authors : Cinda Lohmann
The California Air Resources Board (CARB) will vote on the final 2022 update to the Scoping Plan at the upcoming December 15 – 16 board meeting.  This plan lays the foundation for achieving California carbon neutrality by 2045 and reducing greenhouse gas emissions by 85% below 1990 levels.  The interim 2030 target of at least 40% below 1990 levels will be surpassed, making this decade one of transformation "on a scale never seen before" (CARB, 2022 Scoping Plan Documents, 2022).  In order to achieve this ambitious goal, California will have to aggressively transition away from liquid petroleum fuel consumption, equating to a reduction of 94% according to the models. 
In the following sections, we will detail the actions expected for California to achieve this goal, and dive even deeper into what this plan may have in store for liquid transportation fuels, renewable electricity, and potential carbon capture investments.
Necessary Actions to Achieve the Goal
The 2022 final Scoping Plan focuses on five key strategic elements:  1) aggressively reducing the dependency on fossil fuels through all sectors (transportation, industrial, residential /commercial, etc.), 2) strictly enforcing reduction in harmful chemicals and refrigerants, 3) continuing to evolve renewable energy sources such as solar, wind, and other renewable sources, 4) incorporating natural and working lands to store carbon, and 5) capturing and storing carbon as well as utilizing direct-air capture technology.  All of these elements will be necessary to achieve carbon neutrality by 2045. 
The plan also lays out the necessary actions each of the sectors will need to take and the associated statutes, Executive Orders (EO), and other directives which put the action into motion (italicized), as summarized below including the percentage reduction below 2019 levels by 2045. 
| | | | |
| --- | --- | --- | --- |
|   | * |   | Sustainable Communities – Reduction in Vehicle Miles Traveled (VMT) per capita by 30% (SB 375) |
|   | * |   | Light-duty Vehicles (LDV) – 100% of LDV sales as ZEV by 2035 (EO N-79-20, AB 197, Advanced Clean Cars II) |
|   | * |   | Medium-duty Vehicles (MDV)/ Heavy-duty Vehicles (HDV) – 100% of MDV/HDV sales as ZEV by 2040, where feasible (EO N-79-20, AB 197) |
|   | * |   | Intrastate Aviation – 20% demand met by electricity (batteries) or hydrogen (fuel cells) in 2045, and SAF to make up the remaining aviation fuel demand (AB 197) |
|   | * |   | Ocean-going Vessels (OGV) at Berth – 25% of OGV's utilize hydrogen fuel cell electric technology by 2045 (AB 197) |
|   | * |   | Port Operations – 100% zero-emission equipment by 2035-2037 (EO N-79-20, AB 197) |
|   | * |   | Freight and Passenger Rail – 100% passenger and locomotive sales are ZEV by 2030, 100% long-haul locomotive sales ZEV by 2035 – relying on hydrogen fuel cell technology (AB 197) |
|   | * |   | Petroleum Refining – CCS on majority of operations by 2030 (to begin in 2028) (SB 905, AB 197) |
|   | * |   | Stone, Clay, Glass, and Cement Industry – CCS on 40% of operations by 2035 and 100% by 2045 (SB 596, AB 197 |
|   | * |   | Electricity Generation – 20 gigawatts (GW) of offshore wind by 2045 |
|   |   |   |   |
CA Targets Greater than 90% Reduction in Fossil Fuel Consumption
Senate Bill 32 (California's Global Warming Solutions Act of 2006) and Assembly Bill 197 (protecting the state's "most impacted and disadvantaged communities") have been the foundation for establishing California's direction on climate change.  With the addition of Senate Bill 375 (Sustainable Communities and Climate Protection Program) and the Governor's EO N-79-20 (target 100% of LDV sales as ZEV by 2035 and targeting MHDV fleet to ZEV by 2035 for drayage trucks and 2045 for buses and heavy-duty, long-haul trucks, where feasible), California will experience a significant decline in fossil fuel consumption in the coming decade.  One of the primary mechanisms for achieving the EO is the Advanced Clean Cars II (ACC II) program which the Board approved in August 2022.  Based upon the modeling scenarios in the Scoping Plan, a 94% reduction in liquid fossil-fuel consumption is projected.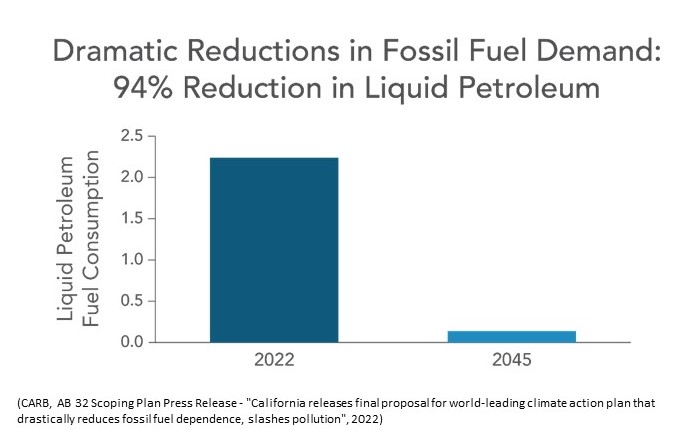 Transition of the Electricity Sector
Decarbonization of the electricity sector is another crucial pillar which will require increased energy efficiency and a decline in generation from fossil-fuel.  The Renewable Portfolio Standard (RPS) requires 60% renewables by 2030, with 100% of retail sales by 2045.  A projected increase of 180 gigawatts (GW) will also be necessary to support this scenario.  The additional electricity will be generated from wind, solar, geothermal, biomass, and hydroelectric power sources, all which will require energy storage capacity.  Over the past three years, California has been faced with challenges of high-load demand and rolling blackouts, emphasizing the need for increased reliability and energy efficiency improvements with the systems.  This has led to the state's decision to provide a five-year extension of the Diablo Canyon Nuclear Power Plant closure, which was originally planned for 2025.  Energy generation and storage resources are necessary to support the direction of the electricity sector. 
Carbon Capture, the Final Action
Even with all the actions from the various sectors, the Scoping Plan is projected to still fall short of the 2045 goal; therefore, investment in both CCS and mechanical CDR will be necessary to get California to the final 100% carbon neutrality goal; however, concerns around sustainability with project life, leakage, and high capital for deployment are all areas which have limited investment.  A symposium was held in September 2022 to discuss some of these critical issues.  CARB plans to host industry stakeholder workshops beginning in 2023 as they kick-off the process to implement Senate Bill 905 (Carbon Capture, Removal, Utilization, and Storage Program).
The modeled scenario as shown in Figure 2-3 from the Scoping Plan, relies on investment in CCS deployment in the petroleum refining industry.  Investment and capital projects have been accounted for beginning in 2028; however, even if this does not achieve the levels modeled, the decline in fossil fuel consumption will drive the associated emissions downward.  A gap of 2-3 MMT CO2e would remain without CCS.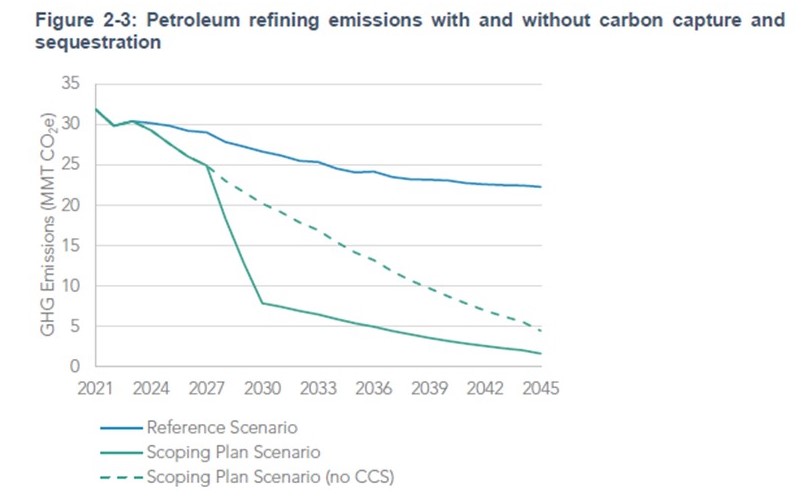 Future Outlook for the LCFS Program
More specifically, what does all this mean for the future outlook of the CA LCFS program?  We have been monitoring the development of the Scoping Plan, as well as closely following the proposed amendments necessary to align the LCFS with this plan.   In the recent November public workshop, CARB LCFS staff shed some light into the areas where the LCFS program may be headed.  An upcoming blog will focus on the recent workshop and potential direction of the LCFS program.
For more of TM&C's insight into the California Market, contact Cinda Lohmann (cindalohmann@turnermason.com) or Sam Davis (sdavis@turnermason.com)