RNG Growth Began in 2014
On July 2, 2014, the EPA finalized amendments to the RFS program qualifying additional pathways that could be used in producing renewable fuel.  Compressed natural gas (R-CNG) and liquefied natural gas (R-LNG) produced using biogas from landfills, municipal wastewater treatment facility digesters, agricultural digesters, and separated MSW digesters would qualify as cellulosic and advanced fuel pathways.  Electricity produced using biogas from these feed sources was also granted a pathway, provided the power is used in electric vehicles. In mid-2014, renewable CNG and LNG became popular transportation fuels and producers of D3 RINs. This was because they now qualified for a D3 RIN. Currently, renewable CNG and LNG make up over 99% of Cellulosic (D3/D7) RIN generation. This renewable natural gas (RNG) transportation fuel growth is shown in Figure 1.  Table 1 shows the U.S. breakdown of RNG used in transportation fuel.
Figure 1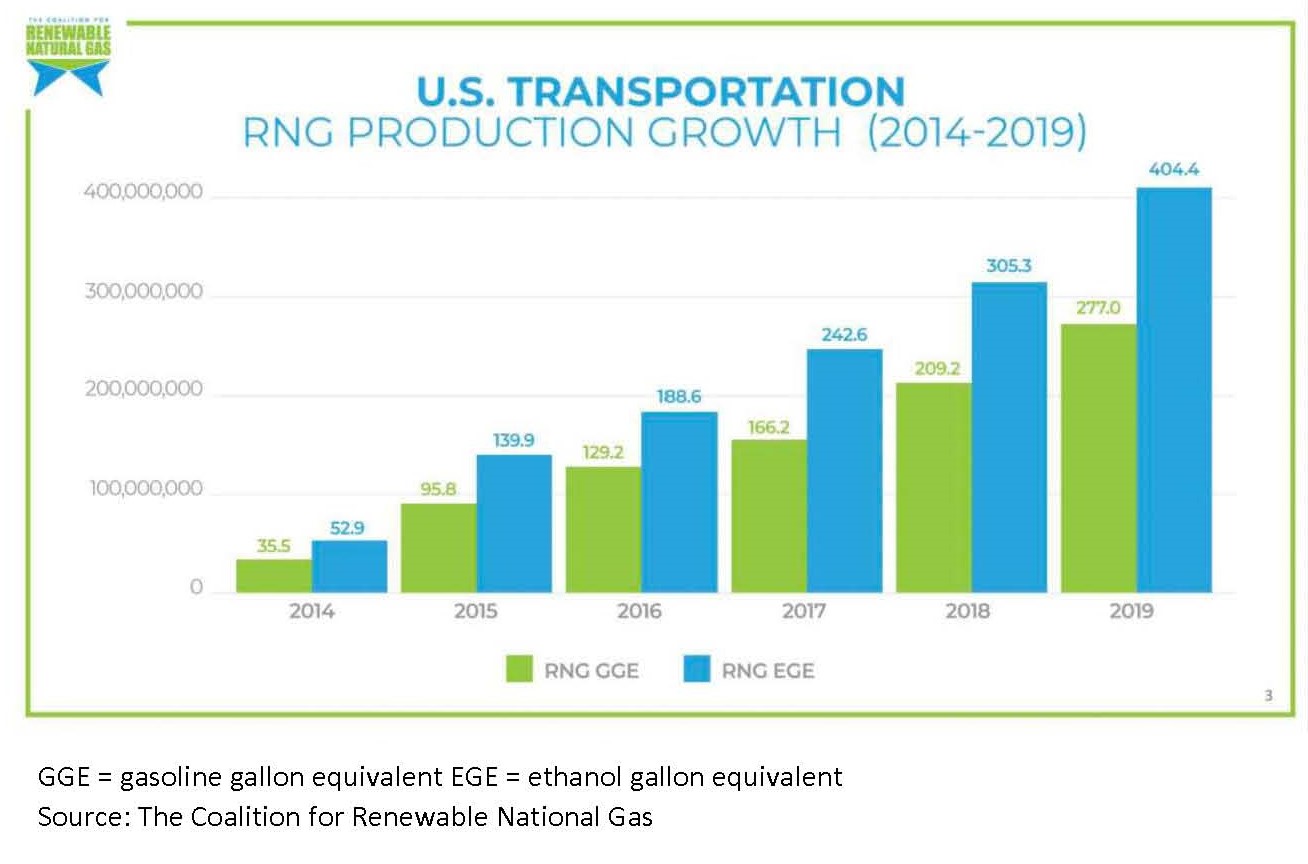 Table 1

RNG Value
A slide from an Element Markets (a biogas marketer) publicly available presentation in Figure 2 shows a potential value history for biomethane.  The largest value shown in light green is for the cellulosic (D3) RIN.  The smallest value is for the natural gas value.  Other incentives can include a carbon incentive such as California's LCFS or Oregon's Clean Fuels Program.  The dark green area reflects the LCFS incentive assuming a 40 gCO2e/MJ. Historically, most of biogas came from landfills and a 40 gCO2e/MJ CI value was typical.  Dairy farm biogas registrations into the LCFS began only in 2019.  A biogas CI value of -287 gCO2e/MJ would have 7.2 times the carbon credit value as one with a 40 gCO2e/MJ CI. 
Figure 2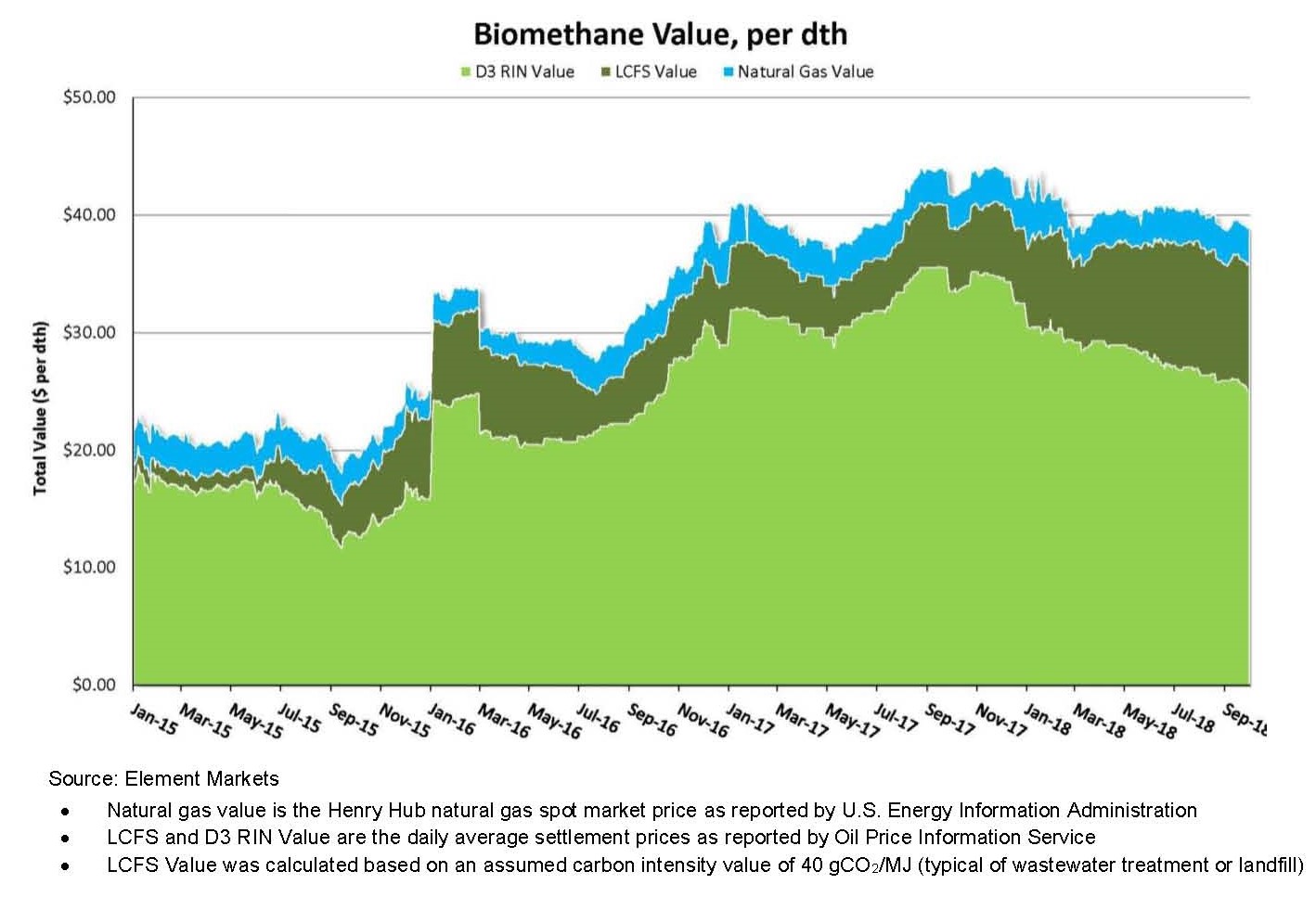 Table 1 shows the current number of biogas producers registered in the LCFS program.  Biogas is produced from anaerobic digestion of animal waste, landfill or waste water treatment.   You will note that the CI value varies widely and is particularly low for animal waste biogas.   Currently, manure pathways are the only biogas pathways under the LCFS program that assume the complete absence of a biogas control system in the lifecycle analysis reference case (i.e., baseline scenario). This means that the CA-GREET model's carbon intensity calculation categorizes manure pathways as having "avoided methane venting"; therefore, fuels produced from it have significantly lower CI values.  Biogas produced from landfills or WWTP gets more value from the D3 RIN than the CA carbon credit, whereas biogas from dairy manure obtains three to four times its value from CA carbon credits.
Table 2

RNG Future Growth
Figure 3 shows both existing and planned growth in renewable natural gas. There are currently biogas producers all across the U.S. with Texas being the top state with 18 producers.  The number of biogas producers in Canada is expected to double. 
Much of the growth will happen in California. At the end of 2019, only 2.7% of the 158.3 million gasoline gallon equivalent (GGE) of RNG consumed by California motor vehicles was produced by in-state facilities. In October 2019, the ARB changed the requirements for to the Heavy-Duty Vehicle Incentive Program (HVIP) to help bolster the development of in-state renewable gas production facilities. In order for fleets to qualify for HVIP funding for natural gas vehicles, the vehicle must be fueled with RNG produced within the state of California and be equipped with an 11.9L near-zero emission engine. Gladstein, Neandross & Associates (GNA) project that by 2024, 160 biogas production facilities will be operational in California producing 135 million GGE.  This compares to 163 current nationwide facilities producing 277 million DGE today (see Figure 1 and Table 2).  Furthermore, 85% of those facilities are expected to be dairy.
Figure 3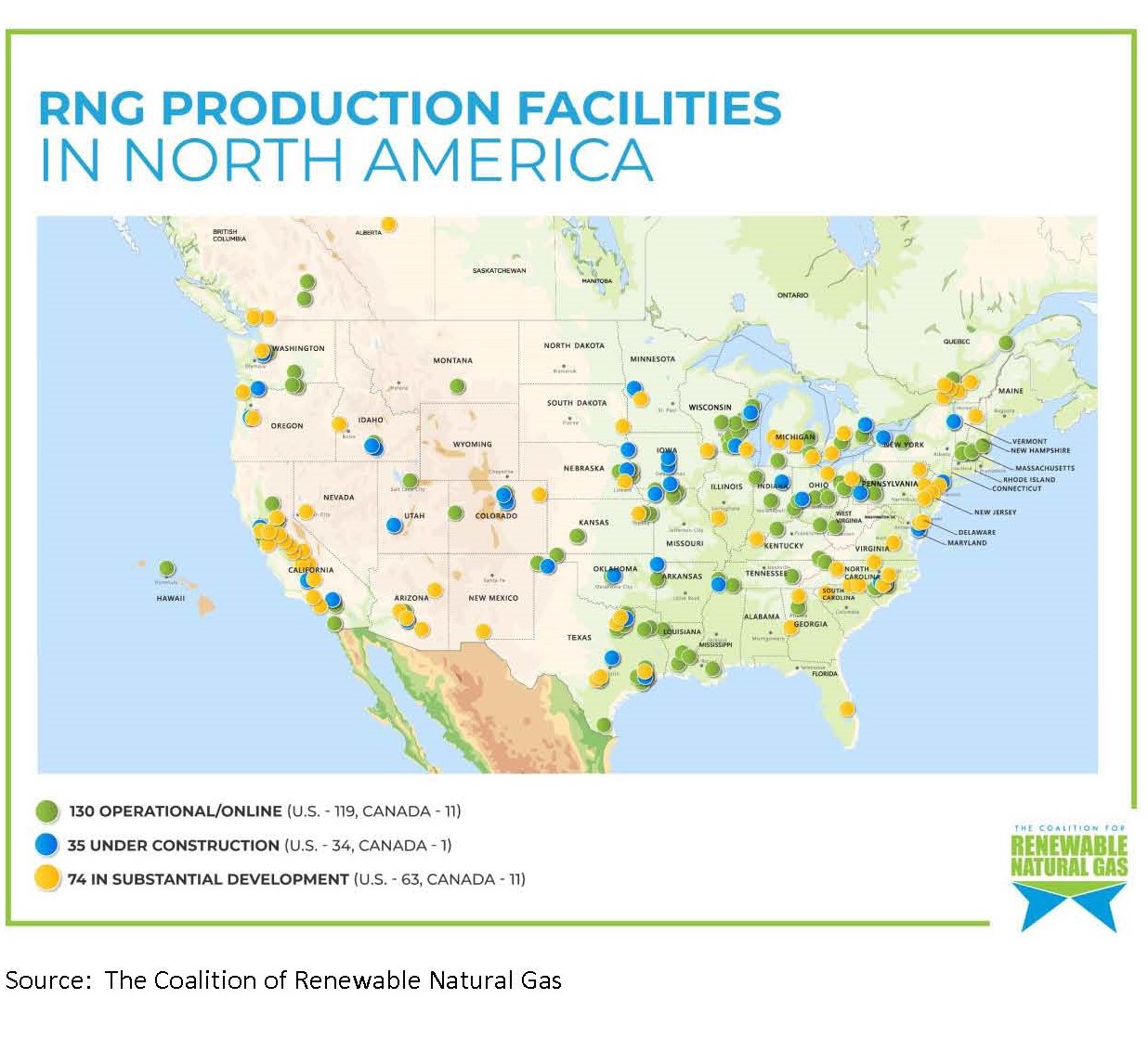 The EPA LMOP Landfill and LFG Energy Project Database shows 564 operational landfill gas (LFG) energy projects in the U.S., 65 of which produced RNG.  The EPA  AgSTAR database shows the U.S. having 255 operational digester projects that process livestock manure.  More than 20 percent of those manure-based digester projects are currently producing RNG.  There is growth potential in landfill, livestock manure and water resource recovery facilities.
The new projects either under construction or in substantial development are slated to come on-line quite quickly.  In September 2020, U.S. Gain announced that it recently completed the installation of gas production equipment at Dallmann East River Dairy in Brillion, Wisconsin, after just eight months.
Biogas Projects Outpacing RNG Vehicles
Currently, the biogas project growth is outpacing increases in RNG vehicles.  The additional forecasted biogas production in California could fuel 13,731 new near-zero emission natural gas trucks. RNG's share of natural gas supply in California's transportation sector grew from approximately 10% in 2013 to 86% in Q1 2020. Oregon is at a similar level of 82% RNG in 2019.   Since there is very little fossil natural gas to displace, there needs to be fleet conversions to biogas.
Chevron has a partnership with Clean Energy who operates over 550 natural gas fueling stations nationwide to help truck owners make the switch to a lease or a purchase of a new natural gas truck fueled with RedeemTM RNG.  Many large fleets have already made the switch in line with their sustainability goals.  In May 2019, UPS committed to purchase 170 million GGE from Clean Energy over a seven-year period.  In August 2020, Anheuser-Busch announced that it is transitioning more than 180 trucks representing approximately 30% of its dedicated fleet to RNG. In September 2020, Estes Express Lines announced it will be adding 50 new natural gas trucks fueled with Clean Energy Fuels' Redeem renewable natural gas to its growing sustainable fleet. U.S. company KeHE Distributors partnered with Clean Energy Fuels in March 2020 added five renewable natural gas (RNG) trucks to its California fleet.
In September 2020, Clean Energy announced new and extended contracts with multiple cities for more than 20 million gallons of RNG. Just a few of these contracts are mentioned as follows.  The City of Sacramento signed an agreement to fuel more than 100 natural gas refuse trucks with an anticipated 8 million gallons of RNG for the next 10 years.  The City of Anaheim has signed a five-year service agreement for municipal vehicles that will consume an approximate 500,000 gallons of Redeem RNG. The City and County of Sacramento have extended their RNG supply agreement with Clean Energy. The County of Denver has signed a three-year service agreement for its CNG station, which provides fuel to over 30 CNG refuse trucks for an expected 750,00 gallons.
TM&C Fuels Regulatory Practice has a wealth of experience spanning several decades in virtually all of the clean fuel programs affecting refiners and marketers, and we are now available as a third-party verification body for the California LCFS program and the Oregon Clean Fuels program.  Throughout its history, TM&C has provided consultation on EPA and state fuel programs in essentially all aspects of compliance.  The "Focus on Fuels" provides a deeper dive into the current regulatory issues facing the industry.  If you would like to be included on the distribution list, visit our "Contact Us Page" on our web site and let us know in the message box.  Feel welcome to give our regulatory compliance team a call at (214) 754-0898.