Authors: Cinda Lohman and Julia Tossetti

In 2010, the EPA approved a waiver asking that E15 be permitted in light-duty vehicles made in 2007 and after. The following year, the EPA extended this approval to cars made from 2001 to 2006. At that time, E15 was required to meet an RVP of 9.0 psi. This was problematic in conventional gasoline areas because the readily available CBOB, when blended with ethanol, could not meet the RVP standard of 9.0 psi. Consequently, the introduction of E15 into conventional areas stalled (pun intended). On June 10, 2019, the EPA issued an extension of the 1-psi waiver; E15 gasoline will now meet the RVP requirement.
Over the years, various organizations have provided the retail system with financial support in order to facilitate infrastructure upgrades to accommodate E15. Despite these endeavors, E15 retail stations comprise less than 1% of retail stations countrywide. Drastic changes in E15 sales and usage are not expected in the wake of this 1-psi waiver. Indeed, Turner, Mason & Company agrees that there are still several impediments to E15 having any meaningful impact on the fuels marketplace.
Obstacles
Infrastructure to Accommodate E15. The main examples of required infrastructure upgrades are retail station pumps and underground storage tanks. Performing these upgrades to meet E15 requirements is a slow process, largely because of costs and logistics.
Mislabeling Mitigation Requirements. In order to circumvent the regulations at 40 CFR parts 79 and 80, some retailers label E15 as a fuel that is only suitable for FFVs. The EPA has clarified that this practice is prohibited and has reiterated that gasoline-ethanol blends comprised of up to 50% ethanol are indeed subject to the regulations stated above. Without this regulatory loophole, retailers are expected to see less incentive to offer E15.
The Current Practices at Blender Pumps. The EPA views blender pumps the same way it does refineries. It is working on a framework for overseeing them. Currently, some produce E15 by mixing E85 with natural gasoline. The latter is not a certified blending component, which means the resulting E15 is not guaranteed to meet specification. Per the EPA, this practice is, and always has been, prohibited. E15 blending at blender pumps needs to be carried out using only certified components. This makes E15 less profitable for retailers due to the higher cost of certified gasoline.
Market forces are another component; there is not a large demand for E15. Since it is only approved for cars made during or after 2001, service stations would still have to carry E10 in order to satisfy their customers who drive older vehicles. And although E15 is EPA-approved for cars made in 2001 and after, some auto makers still advise against using E15 in their cars. This inconsistency prevents car owners from feeling completely confident in using E15. Additionally, some drivers know that E15 delivers a smaller MPG than E10, and do not want the inconvenience of refueling more often.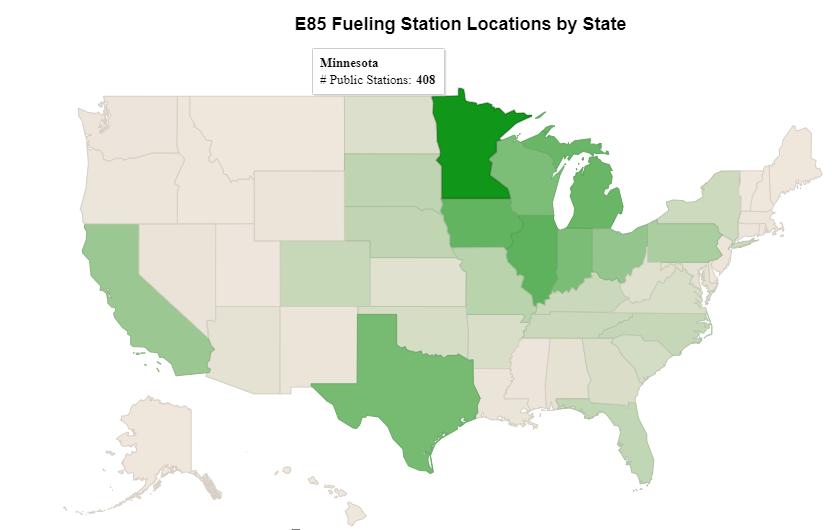 Source: https://afdc.energy.gov/data/10367
It is possible to identify which areas have the greatest potential for E15 growth. Retail stations that sell E85 have blender pumps, which indicates they have the capacity to blend E15. By examining where E85 stations are the most common, one can predict where E15 sales are likely to grow. The illustration above shows the concentrations of E85 service stations across the U.S. These types of stations are most common in the upper Midwest, along with California and Texas (the darker the green, the greater the number of E85/E15-capable stations). Outside of these areas, stations with blending pumps are less common. Therefore, an important step toward increasing E15's marketability is boosting the quantity of these pumps in other states.
Usages
The EPA has approved E15 for light-duty cars and trucks with a model year of 2001 and later. Drivers with high performance engines might consider utilizing E15 because of its higher octane rating; greater octane translates to improved acceleration, assuming the engine's compression ratio is adequate (check your owner's manual). In fact, some racecar drivers use E85 for its high octane. But on a per unit basis, ethanol generates less energy than gasoline. So drivers using E15 instead of E10 might see a smaller MPG. Also, the EPA has not approved E15 for nonautomotives. The engines in these vehicles cannot adapt to variations in fuel like car engines can.
How does this affect you?
With the extension of this waiver, there have been revisions to the language on the records for ethanol-gasoline blends. For instance, now that CBOB can apply to either E10 or E15, PTD language for oxygenate-blending facilities may need to change.
TM&C has a wealth of experience spanning several decades in virtually all of the clean fuel programs affecting refiners and marketers. Throughout its history, TM&C has provided consultation on EPA and state fuel programs in essentially all aspects of compliance. Feel welcome to give our regulatory compliance team a call at 214-754-0898.